ACTUALLY INTERVIEWS BRYN FRERE-SMITH
BRYN FRERE-SMITH, FOUNDER OF BLUE BEAR COFFEE.
To kick off our new Actually Interviews series, I caught up with one of my favourite people, Bryn Frere-Smith (Founder of Blue Bear Coffee) for quite frankly the best Valentine's Day date a woman could ask for.  
 So grab a cuppa, settle in and prepare to be inspired as we delve into Bryn's childhood ambition to be a stuntman, embracing visibility and why kindness is the most important quality you need as an entrepreneur. Or, if you'd prefer to watch the interview in full, click here. Alternatively, to listen to the audio, click here. 
BRYN'S JOURNEY TO SOCIAL ENTREPRENEURSHIP
Bryn didn't always want to be a social entrepreneur. Until he was eighteen, he dreamt of being a stuntman.  He even auditioned for a degree in stunt combat and stunt performance at a dance and drama school. It didn't go quite as he had planned. After what he describes as the "most mortifyingly embarrassing day of my life" Bryn took a gap year working for a charity in Bolivia and studied Sports and Exercise Science combined with Drama and Theatre Studies at University.  When he completed what he describes as "the world's least helpful degree." he joined the police. 
 But how does a man go from aspiring stuntman to policeman to the founder of Blue Bear Coffee?
Bryn says: "There is a thread that binds things together, it's the sensitivity around issues of justice or matters of injustice…After leaving the police, I still had these lofty ambitions to make something of my life – to impact other people and to see people safe who are vulnerable." 
Bryn started a security business, which he still operates today.  But after a few years working for the ultra-high net worth community, that yearning to help the vulnerable and tackle injustice could no longer be ignored and he decided to volunteer for a year as an investigator for the human rights agency, International Justice Mission (IJM).
 IJM sent Bryn to the Dominican Republic to investigate the commercial sexual exploitation of children on the island. 
"I spent a year working as an undercover officer trying to identify children that were being sold and exploited.  And I knew that my life had been unquestionably, irrevocably altered by that experience."
As Bryn talks, I am struck by his huge passion and enthusiasm for helping the most vulnerable people in our world.  He speaks about his work and purpose without any hint of self-aggrandisement, instead peppering our conversation with humour and self-deprecation.  Byrn brings a necessary lightness to undeniably dark and difficult subjects, making it easier to resist turning away from the stark realities and consequences of some of society's worst crimes.  His is a deep-seated, genuine desire to make the world a better place.  It's a desire that comes from lived experience.
THE STORY OF THE BLUE BEAR 
"I was over in the Dominican Republic, it was Christmas time.  I met a young child who had been trafficked and exploited by her parent.  She had very bravely spoken up about the situation…that people were paying her mother to use her sexually.  She was concerned this abuse was going to cascade into her little sister's life as she grew up.  So she decided to speak to a school teacher.  The teacher told the police, the police told us and together we mounted an operation that removed her and her siblings from that situation and arrested those who had been responsible for her abuse." 
 Before his colleagues drove this girl away from the place she had called home, they asked her if there was anything she wanted to bring with her. 
"She asked for her blue teddy bear.  This was a young teenager, but the only item of value that she wanted to take from this situation, from this awful place, was a teddy.  It was a battered dog-eared, smelly Teddy…And as I look back on this, I think it wasn't for her comfort…but more that she was rescuing her teddy bear, and moving from a situation of being rescued to being a rescuer."
 That experience inspired Bryn to start a teddy bear fund – asking friends and family members to chip in so that they could buy a load of teddies for the child survivors of exploitation. It was a huge success and it sparked a thought. What if he could do more? What if he could create a business to raise money to support survivors not just with teddies but with education, health care, support? And so, when he returned from the Dominican Republic, Blue Bear Coffee was born. 
Now nearly 4 years old Blue Bear Coffee donates and invests all its profits in programmes tackling issues of modern slavery around the world.  Choosing coffee as their primary product has allowed them also to engage in an industry that is often saturated with injustice and modern slavery. Blue Bear tackles this head-on by paying fair wages and insisting on transparency in their supply chain.  
It's an amazing story, and one I never tire of hearing – an inspirational story for anybody who wants to make a difference in the world.  
ROLLERCOASTER DAYS, CHALLENGES AND LEARNING FROM SUCCESS
I ask Bryn what the early days of launching Blue Bear were like?  How was it to start up a business having been a policeman and worked in security?  
 "It's been a real rollercoaster, one of the hardest things is getting started.  You can come up with so many ideas, brilliant ideas that never go any further than a notepad.  Actually getting something going, committing to it and being willing to accept the risk of sticking your head out in the distinct possibility it might fail." 
 The challenge of just getting started is one I know many people in this community can relate to. But once he'd overcome that, and Blue Bear was up and running, the next challenge Bryn faced was visibility. He had hoped to be anonymous but as the Founder of Blue Bear, he quickly realised that it was up to him to step up, to share the story and inspire others with his vision. 
"I had hoped in some way to do it anonymously…I discussed it with lots of people who I respected and we went for it.  I don't regret that.  I think that's a lot of the reason why we have enjoyed a certain degree of success." 
 But it hasn't all been challenging, Bryn has found, just like I did when I started both of my businesses, that fabulous surprises also come your way on the entrepreneurial journey – often in the form of others' unexpected kindness and no-strings-attached generosity. For Bryn they always seem to come when he needs them most. And the best ones? 
 "Normally, it's in the form of a kind email from somebody I don't know, who has no agenda other than to encourage and that's so, so valued and appreciated."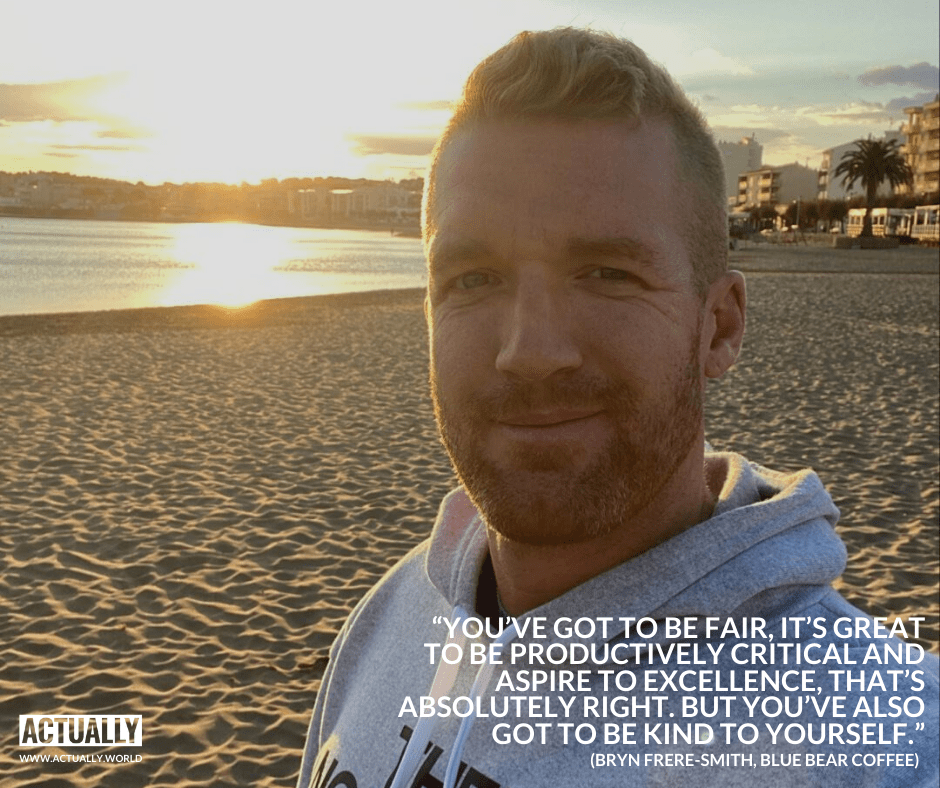 What has Bryn learnt from the success of Blue Bear Coffee? 
 "I think tenacity is a big thing. Just to keep on going.  Certainly when you're…starting something on your own, you can become your own biggest critic…But I think you've got to be fair, it's great to be productively critical and aspire to excellence, that's absolutely right.  But you've also got to be kind to yourself."
 Never a truer word said!  I hear in this community and beyond it, all day, every day, people beating themselves up for the mistakes they've made, or the things they haven't done, or the things they should have done.  But life is tough enough, just keep going, keep moving forward.  And be kind to yourself.
BEST ADVICE AND INSPIRATION
Being a solo entrepreneur doesn't mean doing it all alone.  I've been lucky in both my businesses to have people support me and give me their advice and encouragement.  Bryn has found the same, lots of good advice and people chipping in to provide their wisdom free of charge. But the best piece of business advice he received came from very close to home… 
 "I was struggling when I left the police to find purpose.  I sort of bounced around these security, consultancy and close protection roles and thought, 'Why am I doing this?  Who am I really helping?'  I spoke to my dad, he really recognised where I was at, and he said, 'Well, if you don't know what you love, establish what you hate, and find a way of fighting it.'  When I reframed it that way, I came to this issue of injustice…of people that get away with making other people's lives a misery, of exploiting them. That's the grit in my eye … and that gives me a focus, gives me a purpose."
 It's a really brilliant piece of advice .. if you're stuck on the 'What is my purpose?' question, ask a different question.  Ask yourself, what is the biggest difference you can make right now.  And then do that.  And then you'll discover your purpose in the context of doing something rather than sitting around with notebooks journaling, just get into action and see what happens.  
 Bryn is undoubtedly an inspiration, but what I want to know before our time together is up, is who inspires him?  Who is his changemaker hero?
 Bryn doesn't hesitate: "Scott Harrison. He's American, not much older than me.  Charity Water is his organisation. He was a New York club promoter and he left that world behind to work for a charity called Mercy Ships. When he volunteered for them he came to this idea of bringing clean drinking water to the world that doesn't have it.  He's been fighting for that cause ever since and seen amazing results.  I just love that story of redemption, of this guy that was somewhat lost, hedonistic lifestyle, felt it was unfulfilling and empty, and then engaged in the social need.  Actually using his life to make real change, to literally bring life to people."
 Bryn and I both thoroughly recommend Scott Harrison's book: Thirst. And funnily enough, when I run training on storytelling in social media, it's Scott Harrison that I use as an example. 
 What about the entrepreneurial world? Does Bryn have an entrepreneurial hero?
 "Lots! We have a podcast and one of the things I've been able to do is use that podcast to meet and develop relationships with some of these people. A good friend of mine, Charlotte Instone, studied at London School of Fashion. As she was getting into the issues of fashion she took a trip to Bangladesh and looked at the injustice in the supply chain of fast fashion and decided to make that the principal focus of not just her degree dissertation, but also of her life.  She founded a company called Know The Origin.  They turned over a million pounds last year." 
One final question for Bryn before it's time to say goodbye – which book, film or podcast would he recommend to the Actually community?
 "If I had to just pick one, my desert island choice, one of the most influential books I've read in the last couple of years was 'Just Mercy' by Brian Stevenson."
TWO TRUTHS & A LIE
And just like that another book is added to my already incredibly long list of books to read!  It's been truly fabulous talking with Bryn but before we say our goodbyes – a little fun! Because there should always be time for fun! 
Bryn shares two truths and a lie:  "I sometimes travel by motorcycle. I sometimes travel by private jet, and I sometimes travel by jogging from one place to the other. One of those isn't true…"
Let's see if the Actually community can work out which the lie is, answers in the comments please. 
A massive thank you to Bryn – what a Valentine's day date! I hope you all enjoyed it as much as I did. And if you'd like to watch the whole interview, click here. Alternatively, to listen to the audio, click here. 
Sara Price
Founder, Actually
YOU HAVE MARKETING SUPERPOWERS®
You're not bad at promoting your business, you're just trying to do it in a way that doesn't work for you.
Find out what your MARKETING SUPERPOWERS ® are and start communicating with your audience in a way that resonates with them & feels comfortable, authentic and natural for YOU.
Phew! Doesn't that sounds awesome?  

Proud to be a supporting member of Social Enterprise UK