ACTUALLY INTERVIEWS KATE LEVINE
Kate Levine, Global Director of Activism & Communications at The Body Shop
In this series of ad hoc interviews, I'll be talking to campaigners, changemakers and visionaries and asking them to share their wisdom, lessons and inspiration with the Actually community. In this first interview, I spoke to Kate Levine of The Body Shop. Kate is an old friend and a former colleague of mine; an awesome campaigner working for an organisation that has been bucking convention and changing the world since their first retail store opened in Brighton in 1976. The spirit of Anita Roddick, the founder of The Body Shop, lives on and inspires Kate – and all those who work with her – to be focussed, to be collective, to be tenacious and, above all, to be brave. It was a pleasure to catch up with Kate and to find out what she loves, what she's learnt and what inspires her in her quest to change the world.  
About Kate
Kate Levine started out at the Consumer's Association (now called Which?) – which was then headed up by the formidable campaigner Sheila McKechnie – and worked on the famous Rip-Off Britain campaign in the late 1990s. She and I first met when we were both working for the global PR agency, Hill & Knowlton – which was where Kate delivered a campaign around renewable energy for Npower with Greenpeace and launched HSBC's climate partnership with David Attenborough. 'That,' she says 'is when I got 'the fire in my belly to do environmental campaigns'.
We worked together again at Pagefield, the independent communications consultancy I co-founded in 2010. I loved working with Kate – she is clever, committed, conscientious and creative. She is a campaigner who doesn't do 'worthy' and doesn't take herself too seriously. But she is serious about changing the world and so I wasn't surprised when The Body Shop lured her away to head up communications and activism. An excellent hire for them and a great opportunity for her.
Body Shop Campaigns
I asked Kate which Body Shop campaigns she has most enjoyed so far. There were a few but one in particular that stood out for a number of reasons:
'In June 2017, I launched a big campaign: the Forever Against Animal Testing Campaign. And in just 15 months, we managed to gather 8.3 million signatures from around the world and take that to the United Nations. So that was a cool piece of work…and I'm proud to have been part of that. It was truly global; truly multichannel. We actually launched it when we were still part of L'Oreal but then The Body Shop was put up for sale during the campaign and we didn't know who was going to buy us. It was a really uncertain time in the business and quite difficult. I think having a purpose…that was about long-term social change in the world…was brilliant. For me, it demonstrated the power of having something bigger than yourselves, bigger than the day to day, that you can focus on both for all of your colleagues and for your customers, and suppliers, too.'
Lessons for Campaigners
For Kate, and I think for most campaigners, passion is a prerequisite for successful campaigning. 'For me personally, it's hard to see how you could work without it.' And Kate had a number of other lessons to share for any aspiring campaigners:
'…number one is be focused. Simplify your message and really be focused on what you're trying to achieve. If you make it too complicated, it's not going to happen. Two is be collective in how you do things and work effectively with other people. You will not be able to do it by yourself. And the third thing is be tenacious. And, there's a fourth thing: be brave. You need to be distinctive, to stand out and sometimes if you want to change something, you're going to have to break what was there before. So you've got to be brave, and that probably trumps everything, actually.'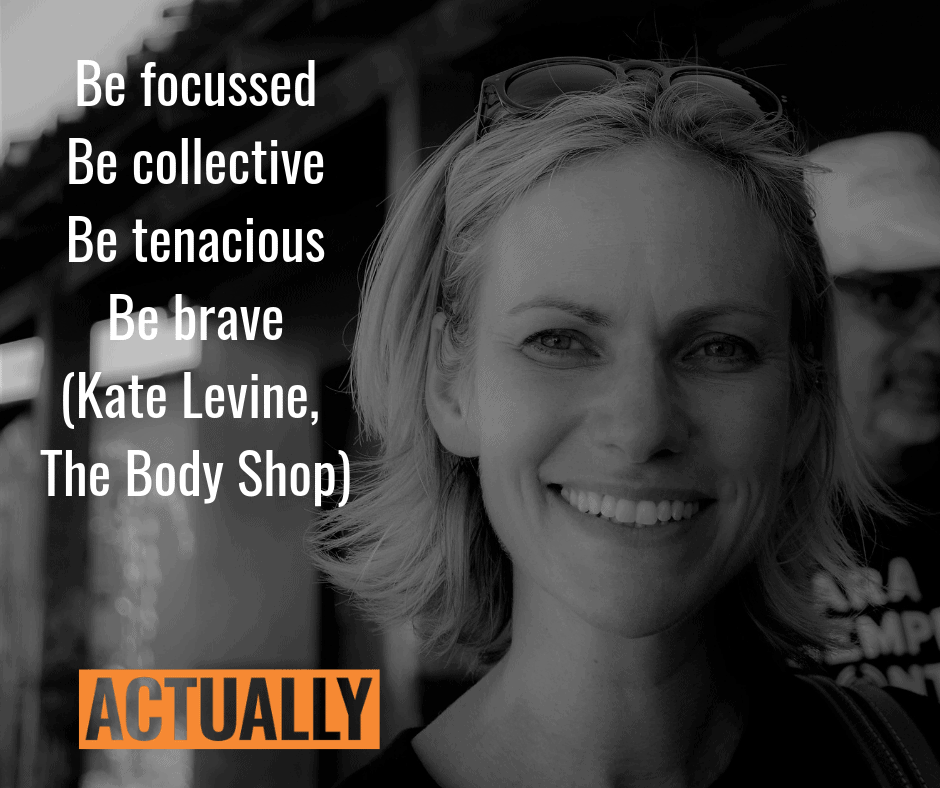 Avoiding Burnout & Protecting the Team
I asked Kate whether that passion, tenacity and bravery can make campaigners more susceptible to burn out. Her response was an emphatic 'yes' – hence her focus on taking care of herself and her team:
'…we work hard. We're often working in different time zones. We're often exhausted from travelling here, there, and everywhere and working long hours. I don't want my team to burn out and I don't want to burn out either. So, I've set some rules for my team like 'no emails at weekends'…if you're constantly on you don't have time to recharge, you can't do great work and you'll burn out.  And for me personally, I make sure I do things like hang out with my kids and my husband, walk my dog, you know, just do things that are very far removed from the kind of campaigning that I'm doing at work.'
Looking after her team is clearly a big priority for Kate. And there are certain circumstances when it becomes even more important. One such circumstance arose earlier this year when The Body Shop got on the wrong side of the anti-abortion movement in the USA. In early June, a few weeks after the Governor of Alabama signed off the most restrictive anti-abortion legislation in the US, The Body Shop – along with 180+ other organisations – signed an open letter to The New York Times in support of Planned Parenthood:
'We did our preparation. We needed to be clear with our staff and our customers that we are a company that believes in women's empowerment and that the rollback of women's reproductive rights in America was fundamentally at odds with women's empowerment…we created statements and Q&A and we put them in very simple language and rolled that out to all of our staff in America, our customer services team and to our social media team. But my team who were managing the Twitter feed were just inundated with horrendous material from anti-abortion campaigners. And I hadn't expected that level of vitriol and the kind of horrific imagery that was going to come through. That was pretty tough for the team. We had to put people on short shifts and really make sure they were okay; giving them time to talk about how they were feeling and letting them know that we were going to be reporting this in every way we could.'
Inspiring Campaigners
The empowerment of women is a cause close to Kate's heart – and was undoubtedly part of the appeal of this job with The Body Shop. That passion is reflected in the campaigns and changemakers that she most admires and singles out for praise. She finds it inspiring that young women's voices are really being heard at the moment:
'I couldn't not mention Greta Thunberg: 16 years old. Someone who does something and doesn't care what others think of her. She's incredible, isn't she? And she's made a lot of other people think: 'What are we doing?' – including other campaigners. 
And also, Gina Martin, 26 years old. Her campaign to make 'upskirting' a criminal offence was just over a year long and started at Glastonbury when someone took a picture up her skirt. She realized what was going on. She went to the police and they said there was nothing they could do. So she started a campaign on Facebook and upskirting was made illegal at the beginning of this year. Just unbelievable.
And Amika George. She's astonishing. Again, a very young woman. She started her campaign from her bedroom and was very clear and single minded about what she needed to do. And then connected to her, we're currently working with Gabby Edlin from Bloody Good Period, which is about making sure that women and girls have access to period products around the UK.
All young women who are very single minded, who don't give up.'
And finally…
We talk about how it's possible to deliver a serious message – about the environment, animal testing or period poverty – with a smile and just before we leave for a great dinner at my local pub, Kate shares with me one of Anita Roddick's quotes:
'We deal with very serious issues but we don't take ourselves too seriously.'
Well said Anita. And Kate.
Keep on changing the world!
Sara Price
Founder, Actually
July 2019
PS: If you'd like to know more about The Body Shop's campaigns, please visit their website here: https://www.thebodyshop.com/en-gb/about-us and to see Kate Levine speaking about activism at TedX GreekStWomen please see: https://youtu.be/SHK2W0RfsOs
YOU HAVE MARKETING SUPERPOWERS®
You're not bad at promoting your business, you're just trying to do it in a way that doesn't work for you.
Find out what your MARKETING SUPERPOWERS ® are and start communicating with your audience in a way that resonates with them & feels comfortable, authentic and natural for YOU.
Phew! Doesn't that sounds awesome?  

Proud to be a supporting member of Social Enterprise UK